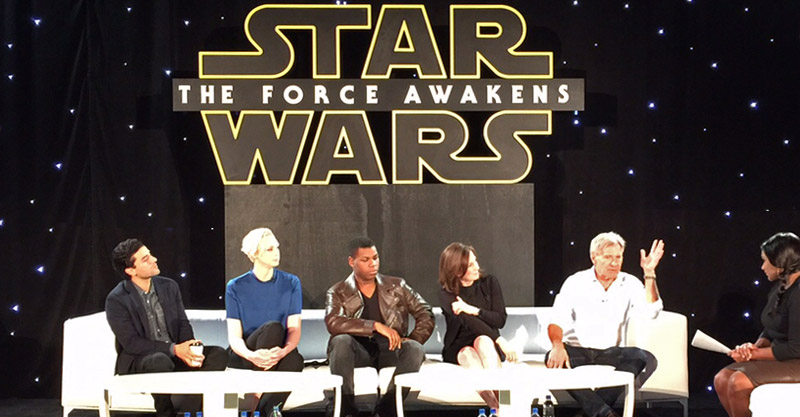 This has absolutely no spoilers. Not even in that vague, teasey way that makes you want to put your frustrated brain in a running blender, and then light the blender on fire. This is not really a review, in the true sense of the word. So I'm calling it a pre-review. Let me explain.
My partner and I recently attended the Star Wars international press conference and we went to the world premiere of The Force Awakens two days ago, on Monday!
Honestly, I have sooooooooo much to say but there's so little I can. For two reasons:
1) I don't use the Douche side of the Force and would rather die than ruin anything.

2) I feel like my head and my heart had a baby and I'm still riding on an adrenaline hyperdrive and have to be careful what I say.
So, what DO I say to you about The Force Awakens that's not pointlessly boring or mind-bending? Well, I'll share my thoughts and emotions as I got to hear from the cast and filmmakers BEFORE I saw the movie, before I even knew all their character's names. (Yes, I was that good at hiding under a rock.)
Full Fanboy Disclosure: I loved The Force Awakens before I even saw it. Here's why.
Since as far back as I can remember, I have loved the Star Wars universe. I don't even think of the original trilogy as "favorite movies," they're so close to me, they're part of me. Part of my DNA.
Here you can see Charlie (left) and me (right) getting misty over the mere release of the official trailer.
I also recently planned and orchestrated my 6-year-old son's first viewing of Episode IV and videoed our experience. His priceless reactions have been viewed over 7 million times all over the internet (as I write this). I'm ecstatic that my son is now part of this global community of Star Wars fans, like his father before him.

You can see how emotionally invested I already was as I walked… floated into the press conference, about to see all the stars of my childhood dreams.
Not long ago, in a conference center close close to me…
Everyone seemed to be vibrating with excitement as we passed C-3PO, R2-D2 and all of The Force Awakens characters' costumes on the way into the press conference room. Seeing the original cast and newcomers walk up and start talking and joking with each other in two separate panels was surreal. You could feel the respect they all had for how important Star Wars is to the world, how important and beloved it also was to them. They offered it like a gift and a promise.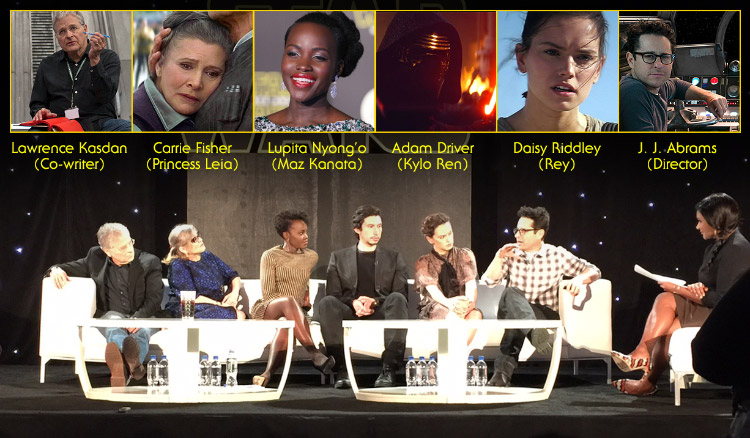 The old-timers were sentimental and parent-like toward the newcomers, who were all fast-witted and startlingly charming. They chatted about who had "the cool" trailer, where the cast and crew would go for good times, and everyone laughed and agreed that it was both Carrie Fisher's and Oscar Isacc's (Poe, the pilot).
When asked "Can you talk about what's definitely NOT in the movie?" Kathy Kennedy (producer) answered simply and instantaneously, "Jar Jar." The audience erupted in cheering laughter.
Carrie Fisher was her hilarious, no-filter self and joked sarcastically about how Leia was "the beginning of girl power" and poked J.J. Abrams again about his refusal to allow her dog, Gary Fisher, to appear in the movie.
John Boyega (Finn) surprised me as much with his thick British accent as his irrepressible charisma. This guy was born to be a star.
"I feel like for some reason – did J.J. know what kind of fan I was when it came to Star Wars, and write this role for me? Because I get to wear a storm trooper's suit, a rebel jacket. I have a blaster. I use a lightsaber. I hang out with frickin' Han Solo and Chewie. It's just fantastic."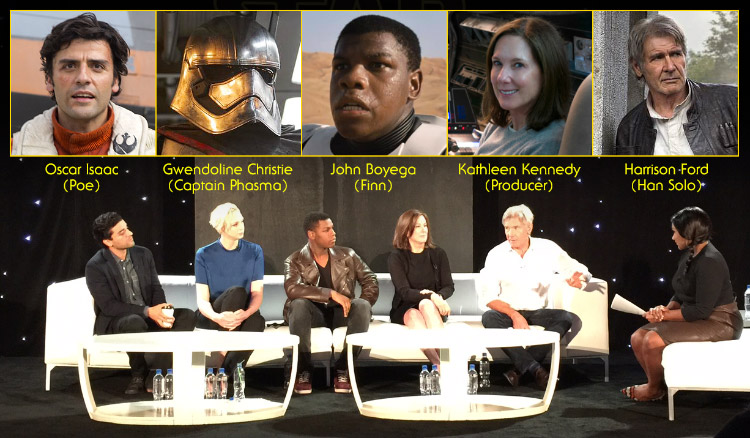 Harrison Ford
For some reason I was sort of concerned Harrison Ford would be kind of grumpy and irreverent. I knew it would hurt me if he was kind of "meh" about something so dear to me. I was very relieved and moved to hear the kind and humble respect in his words about the project:
"It's gratifying to be asked to be part of this. There was a interesting story to tell for the – through the character. It's always nice to anticipate working in something that you know people will have an appetite for. This is not a crap shoot. This is – this is a big casino. And it's fun to play with these toys again. It's been a great experience."
He also made the comment as a dad that his kids don't think he's cool at all. So, it's official: parents are doomed to uncoolness, if Han friggin' Solo can't even swing it.
Everything that they all said about what drove them and what they wanted to do with the film felt like WHAT I WOULD WANT. Totally absorbed, I just basked in it all. With a fair amount of worry originally that I wouldn't like "these people" and what they did to "my Star Wars," I sat there and said to myself…
They're worthy, I already love them.
May the Force be with all of them! And all of you!
(One piece of advice: SEE IT IMMEDIATELY. Trust me.)
–
Gratuitous BB-8 Clip
(HE GIGGLES!!! Also, you're not supposed to touch him, but I Jedi mind-tricked BB-8's chaperone into letting me.)
Click Here For Original Source Of The Article