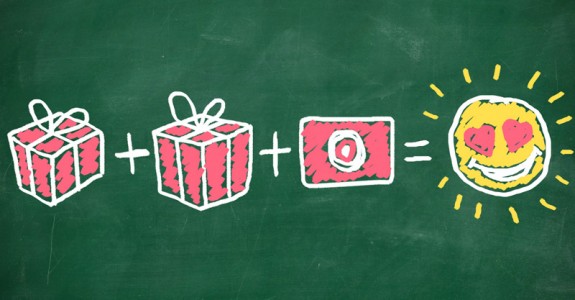 Gift cards. They seem impersonal and rushed, but the truth is they're the swiss army knife of gifting. If only we could transform the gift-card-giving experience into something that makes the process feel both meaningful and practical. I know I change my mind a great deal, so the whole concept of the gift card gives me the freedom to select the things I actually need. Plus, when it comes to certain family and friends who shall remain nameless, I feel like I'm stuck in a black hole of nofreakingcluebecausetheyactvagueaboutgifts.
Well, today, a few days before Christmas, Andy and I wanted to make sure we gave you some last minute shopping hacks that might transform the holidazed feeling into a warm, bourbon-like holiday spirit.
Our formula is simple. Find accompanying gifts, and then give a suggested pairing for the gift card. This way the gift recipient sees the creativity without the pressure! Double win!
Romantic
Barry White Album + A bottle of wine + Target Gift Card = ROMANCE
Wink wink. Set the mood. Heck, give it a good firm push! Maybe they'll buy something special for Mommy and Daddy time.
Relaxation
Foot Massager + Ear Plugs + Target Gift Card
No one told us how much standing/walking we'd do as parents. The plugs are so they can actually enjoy their massage (kids are LOUD).
Cinephile
Two lightsabers + Star Wars: The Force Awakens preorder + Target Gift Card = MOVIE NIGHT
Nothing says "Use the Force" like geeking out with a gift card for Jedi fun. It's hard for parents to get out to see a movie. Let them load up on popcorn, candy or their choice of Star Wars themed lounge wear.
Nostalgia-thon
Digital Photo Frame + 10 Boxes of Tissues + Target Gift Card = NOSTALGIA
Preload the frame with shots of your little one growing up picture-by-picture. They grow up so fast!
Wellness Splurge
Box of Chocolates + Fitbit + Target Gift Card = GUILTLESS SPLURGE
We all wrestle with keeping our "parent bods" under control, so combine just gifts that cancel each other out!
Breakfast of Champions
Waffle Iron + Ingredients + Target Gift Card = BREAKFAST Of CHAMPIONS
You could throw in an IOU for actually preparing a towering stack of waffles as well. They can pick out their favorite breakfast additions. No way to lose!
Campy McCamperson
S'Mores supplies + Netflix Gift Card + Gift Card
Not a fan of nature or the weather? Too tired to set up a tent? Well, you can stream a Yule Log any time of year while you make s'mores over a fire or a primitive toaster over. Even cavemen knew things tasted better when cooked over fire. But now you can the experience indoors!
Dancing Machine
Glow Sticks + Disco Ball + Target Gift Card = DANCE-A-THON
When all else fails: dance it out. Parenting and life can get so stressful, all you can do is put on a jam, turn off the lights, crack some glow sticks and party. With or without the kids, it's a great stress reliever. Jam on it.
Well, there you have it. Gift cards can be the start of some radmagical. All you have to do is make sure the creative garnishes are there, and your main course gift card is there to help. Thoughtful, multipurpose and always useful, gift cards have got a great thing going.
What combinations would you make? Tell us yours in the comments.
–
Special thanks to Target for helping us bring you this post. It feels like a Christmas present from them to us because we shop at Target ALL. THE. TIME.
Click Here For Original Source Of The Article